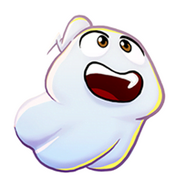 Lead the Ghost Upwards levels or Ghost are one of the five level types or game modes in Bubble Witch 3 Saga. The first level starts at Level 11, which appears in episode 2, Wilbur's Den.
Clear a path through the bubbles to make the ghost fly to the top of the screen! Every time you create a lane that is further up, the ghost will make his way to that path.
Lead the Ghost Upwards levels are the common level type in the game, making up 176/740=31.43% of all levels, with 176 total appearances out of the 740 levels.
Start to Last
Edit
Ad blocker interference detected!
Wikia is a free-to-use site that makes money from advertising. We have a modified experience for viewers using ad blockers

Wikia is not accessible if you've made further modifications. Remove the custom ad blocker rule(s) and the page will load as expected.