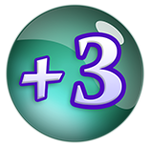 Bonus Moves Bubble or +3 Bubble is one of the special bubbles or Power Bubbles in Bubble Witch 3 Saga. It was first introduced in Level 141, the first level in the 9th episode Clay Canyon.
What it does
Edit
This bubble has similar property to the Bubble Mill in Bubble Witch 2 Saga, except the number of added moves counts down after each turn, starting at 5 when the bubble first appears on screen. To gain bonus moves, the bubble must be hit before the countdown ends.
Bursting one of these will give you extra moves. This bubble can be burst with a direct hit. The value currently displayed on the bubble lets you know how many extra moves will be awarded if the bubble is burst on that turn. However, the bonus count will deplete by one move for each turn that it's not collected. Prioritize collecting these bubbles in as few turns as possible; they often appear in levels that start with a low move count.
If the countdown ends before the bubble is burst, it reverts to a normal bubble.
Bonus Moves Bubbles
Edit
Ad blocker interference detected!
Wikia is a free-to-use site that makes money from advertising. We have a modified experience for viewers using ad blockers

Wikia is not accessible if you've made further modifications. Remove the custom ad blocker rule(s) and the page will load as expected.